Scootapi pass (Subscription) is a one-day, weekly, or monthly prepaid package that includes a free unlock scooter or a specific travel time. This solution allows you to earn on customers regardless of activity while closing their main aspiration – a fast, comfortable, and inexpensive ride. Subscriptions will help you to create not only a stable financial flow but also build client loyalty.
Segment needs, not people
Regardless of your target group and its behavior pattern, segment your audience based on two main needs: to get from point a to point b or just have fun. Understanding these differences, you will be able to clearly articulate the client's desires and pains and understand the context in which they are formed. This will provide a value proposition that will be sought after.
Especially for you, we have developed a Framework to help you develop subscriptions for any kicksharing company.
How to understand and apply this information?
Move easily and quickly from point A to point B for a reasonable cost.
One of the options that the customer wants to get when using your service. Let's look at the structure of this request. The need to move plays a central role and also in addition to three wishes: driving comfortably, quickly, and cheaply. Savings categories – the object of this product If comfort and speed are not in correlation with subscriptions.
Aware that the customer's main pain is an overpayment, you need to formulate a value proposition within the subscription in such a way that customer has the opportunity to save money on moving into various living conditions of a particular user.
How to develop a proposal for effective pain closure
Let's analyze the segment of customers with the need for constant movement, about 70% of trips from the total number. In this case, the key aspect is the duration of the trip. If it is under 15 minutes, the primary cost is paid to unlock a scooter. There may be a feeling of overpayment, especially if the unlock costs more than the ride itself.
The opposite is true for a customer with a need for rides >15 minutes. Here the unlock is an insignificant share of the total cost of the trip, but the per-minute rate itself may seem overpriced.
Therefore, the first group should be allowed to save money through free unlocks, while the second group should be given a free 30-minute pass.
The second segment of rides – entertainment
The scooter is used as an attraction, and the customer often has no specific destination and does not know how much time he will spend. This segment represents around 30% of all travel, and in cities with a significant tourist flow of up to 60%. And group trips are common. Given this, it is advisable to offer clients the possibility of a 30 or 60-minute trip with a fixed cost. In the future, we will add the ability to rent a scooter until the scooter is fully discharged. The decision to reduce the cost of unlocking and the minute rate for the subscriptionholder applies to group trips.
How to calculate the cost of a subscription?
Here is an approximate calculation. All figures and coefficients you can adjust for yourself.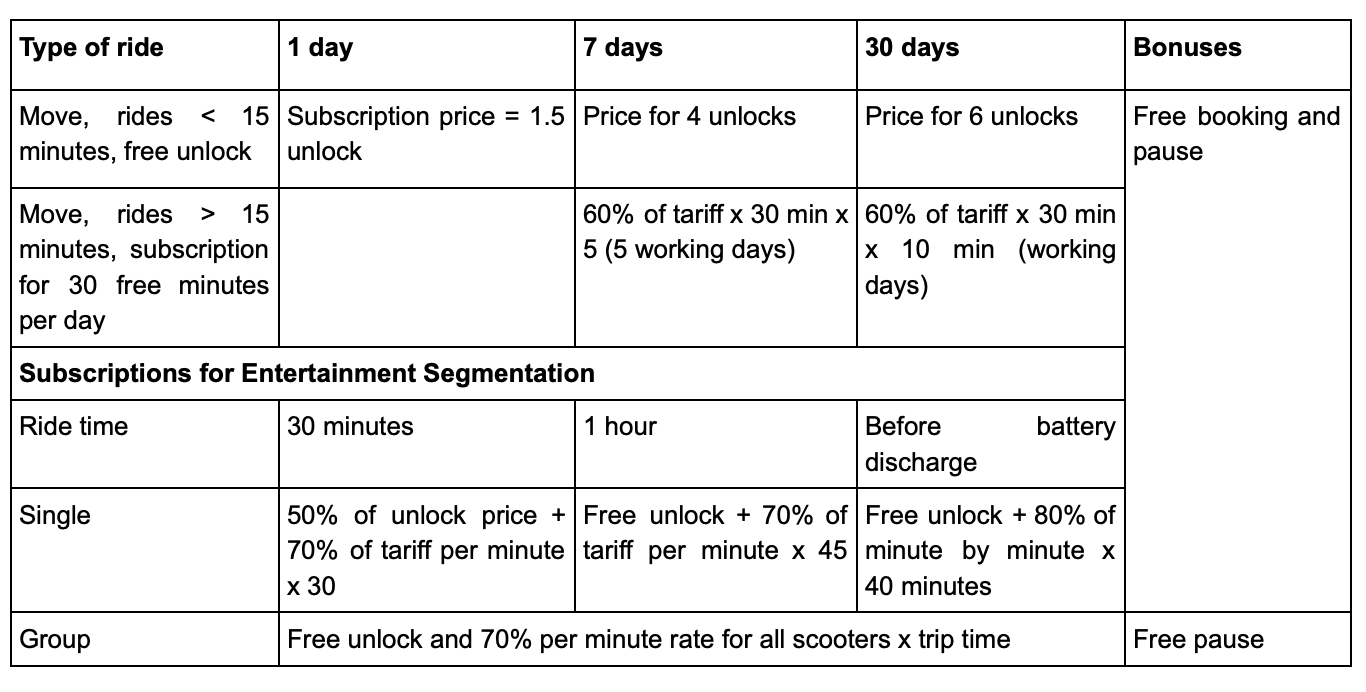 Conclusions
With this pricing policy, the customer saves up to 30-40% depending on his needs, and you can count on guaranteed revenue and the ability to predict cash flow (cash flow, turnover) more accurately. And also, don't forget about the possibility of introducing subscriptions dedicated to various events.
Incidentally, based on the experience of other companies, where there are subscriptions, there is a high percentage of people who purchase them but do not use them. The losses on subscriptions are covered by people who don't use them.
Therefore, a good grid of subscriptions is an excellent marketing tool, which on the one hand will increase the loyalty of active customers, and on the other hand, will open a new sustainable revenue stream for your business regardless of actual user activity. Take the opportunity to improve the sales efficiency of your share business, write us, and we will help you to develop a tariff grid considering the characteristics of your region.