SEGWAY Max Plus
SEGWAY Max Plus is a scooter for comfortable and safe driving not only on smooth roads but also on other surfaces. The design and protection of the scooter are made in such a way that makes the SEGWAY Max Plus a good option for use in scooter sharing.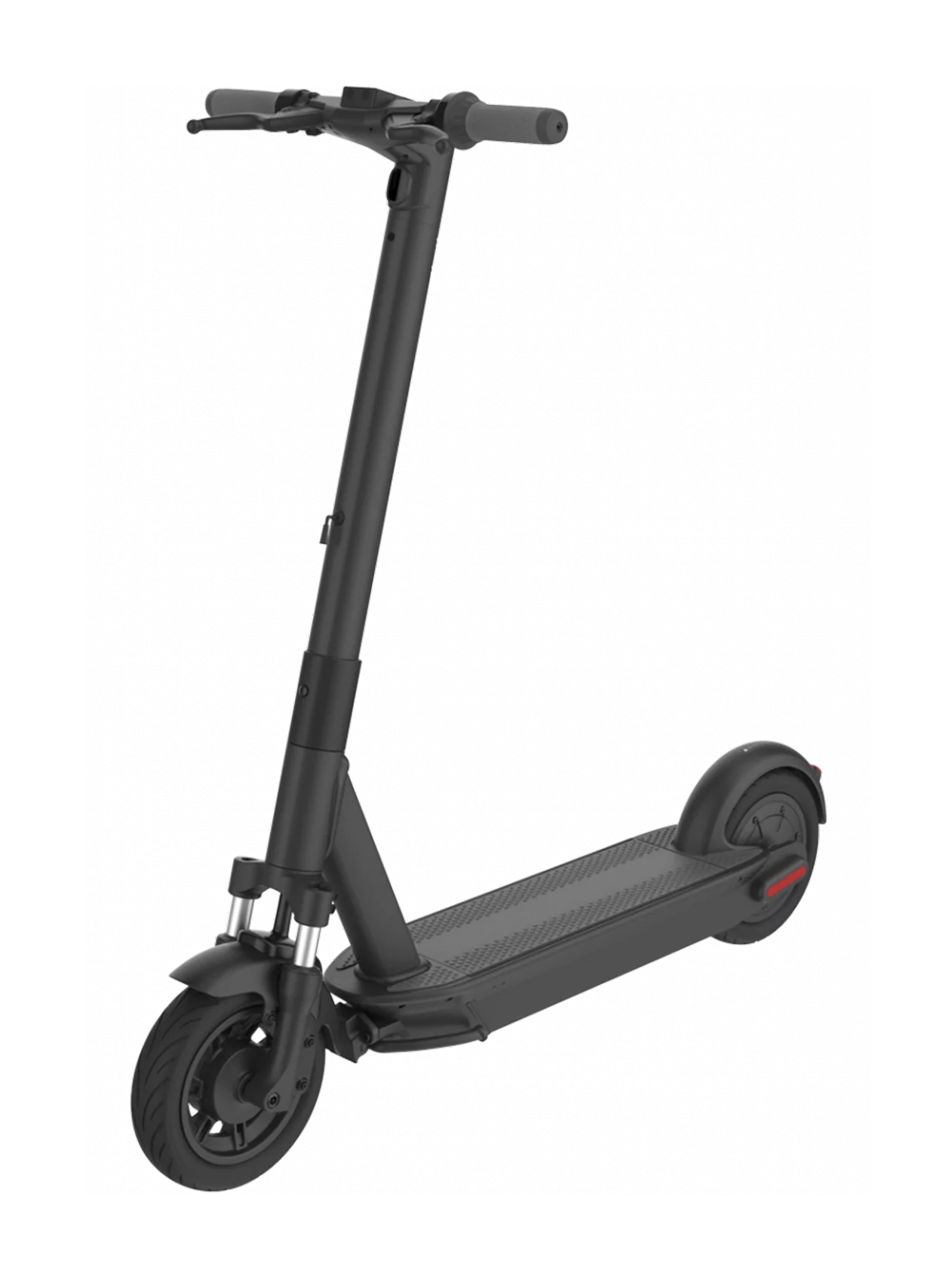 Technical Specifications
The model is designed for rental, and therefore has all the technical characteristics necessary for this.
| | |
| --- | --- |
| Specifications | Indicator |
| Power reserve | 55 km |
| Replaceable battery | Yes |
| Battery cell manufacturer | Samsung |
| Charge time | 5 hours |
| Maximum speed | 30 km/h |
| Branding capability | Yes |
| Maximum load | 100 kg |
| Suspension | Shock absorber |
Scooter frame
The frame is made of durable aluminum alloy. The maximum load it can withstand is 100 kg. The design has a double footrest. It provides good stability scooter when it is not in motion.
IPv6 protection guarantees reliable protection against dust and moisture.
Moving part
The scooter has two suspensions – front and rear. The fork in this model is shock-absorbing and made reliably. It allows you to move on uneven roads without noticeable discomfort.
Battery
The capacity of the SEGWAY Max Plus battery is 550 W/h. It allows you to travel more than 50 km on one charge. Charge the battery from zero to full charge in 4 hours and 30 minutes. Up to 80% – in 4 hours.
The battery is removable and placed in a special compartment under the frame. The battery compartment cover is reliable in use. It opens at any angle and automatically retracts. It also has an anti-theft design, which increases the safety of using a scooter for sharing.
Speed
The scooter reaches a maximum speed of 25 km/h, and the motor power is 350 W.
It is important not only to accelerate but also to slow down in time! This process in the scooter is responsible for a double brake. It provides smarter, easier and safe braking.
Wheels are made of durable rubber and have a special insert. This wheel structure protects against puncture and provides safe movement and braking.
Scooter customization option
For making your scooter sharing business more competitive we offer free branding of vehicles while buying more than 300 units at once.
About the Brand
«Segway» is an American company specializing in the production of individual electronic vehicles. It was founded in 1999 by American inventor Dean Kaman.
The company experienced ups and downs during more than 20 years of existence. In 2014, it was bought by Chinese manufacturer Ninebot. The company now has more than 1,000 employees and is headquartered in the U.S., China, and the Netherlands.
Now «Segway» is experiencing a new wave of popularity. This is because in their devices the manufacturer harmoniously combines the reliability of movement with the latest technical developments. And also focuses on environmental friendliness to contribute to the preservation of the ecology of the planet.
ScootAPI is preparing to launch an electric scooter sharing business. If you have any questions, please, write, phone, or leave a request on the website.
Let's bring your idea to life!
Get free start advice, leave data on the number of scooters and region