Okai ES600
OKAI ES600 electric scooter is an advanced design, a powerful 700-watt electric motor, 25 km/h speed, a replaceable battery with a range of over 55 km, 25° uphill climb, and advanced sharing software.
Technical Specifications
The OKAI ES600 is one of the most "ideal options" for urban rental. It is an option that has no compromises.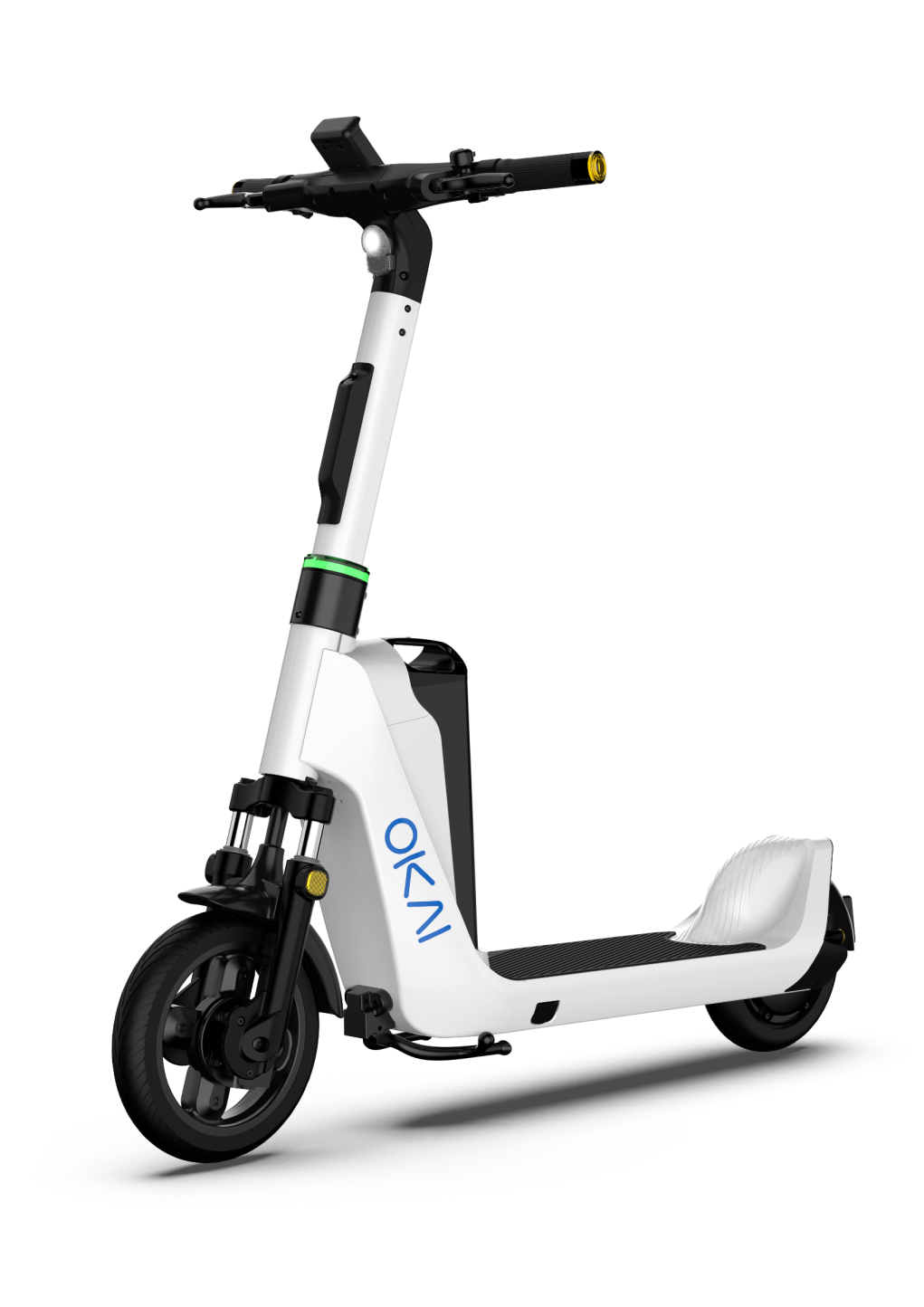 | | |
| --- | --- |
| Specifications | Indicator |
| Power reserve | 55 km |
| Replaceable battery | Yes |
| Battery cell manufacturer | Samsung or LG |
| Charge time | 6 hours |
| Maximum speed | 30 km/h |
| Branding capability | free for orders of 300 units or more |
| Maximum load | 100 kg |
| Suspension | Shock absorber |
Scooter frame
The advanced kickshering model OKAI ES600 uses the latest technologies and materials, including aluminum alloy for the aviation industry. The cast model with a low center of gravity and a fully closed rear wheel ensures durability.
The control module is hidden in the steering column so it cannot be tampered with or damaged. There is also a handy smartphone holder with a wireless charger on the handlebar. The curved, ergonomic handlebar ends feature swivel signal lights for rider and pedestrian safety. And the bright, unbreakable acrylic display will last long and be reliable.
The steering column features a circular LED status light that changes color. The light makes it easy to find the scooter in the dark, as well as determine if it's ready to go.
The OKAI ES600 rests on a parking stand in an ergonomic design. The maximum load of the scooter is 100 kg. Weight – 32 kg. Dimensions – 126x62x121 cm.
Moving part
The wheels are 12 inches in diameter (front wheel) and 10 inches (rear wheel) in which strong and wear-resistant honeycomb tires are used. This allows you to avoid punctures, as well as the large size of the wheels makes your customer's ride more comfortable.
Hydraulic front suspension complements smooth and comfortable rides over bumps and gravel roads.
Battery
The LG 47V 14.4Ah lithium battery has an IP67 protection system, indicating dust and moisture resistance. It is charged in the 110-220V range. The battery is charged in 5 hours with a 3A battery charger.
The battery is equipped with a backup power system for a period of up to 20 days, with a fully discharged battery, communication with the scooter will remain for 3 weeks. The integrated handle makes it easy to remove the battery and allows you to quickly change discharged batteries to fully charged ones.
Speed
The 350-watt electric motor provides a speed of up to 25 km/h. The braking system is represented by front and rear drum brakes.
Software
OKAI electric scooters are equipped with a built-in IoT module with advanced settings, including:
security provisioning by on/off via GSM and BLE 4.1;
multi-mode positioning with GPS, GLONASS and BDS
sound tips and signals that increase safety during movement;
quick notification of attempted or falling scooter.
And also monitoring the condition of the scooter and controlling its functions remotely.
Scooter customization option
We brand the scooters for free if you order more than 300 items at once!
About the Brand
OKAI appeared in the "Middle Kingdom" in 2006. The company founder Jintao Lu was passionate about scooters. His dream was realized in a 50,000-square-meter factory, where 20 engineers and about 1,000 skilled workers are involved in the development and assembly of high-quality urban electric vehicles.
Zhejiang OKAI Vehicle Co., Ltd. owns OKAI brand and has branches all over the world. The company is managed from its headquarters in Berlin, Germany. Over the years, the company has received more than 100 patents in the field of micro-mobility.
The company's mission is to provide people with comfortable mobility and, at the same time, to preserve the planet's ecology.
ScootAPI offers packaging business by sharing scooters or other electric vehicles «turnkey». If you have any questions, please write, call or leave an application on the website.
Let's bring your idea to life!
Get free start advice, leave data on the number of scooters and region