OKAI ES400B
OKAI ES400B electric scooter is designed for kickshare companies. It features an increased design weight and an improved system of removable batteries. The electric scooter is designed for driving up to 55 km with speeds up to 30 km/h.
Advanced functions of software for sharing provide easy tracking of location and other parameters of electric scooters.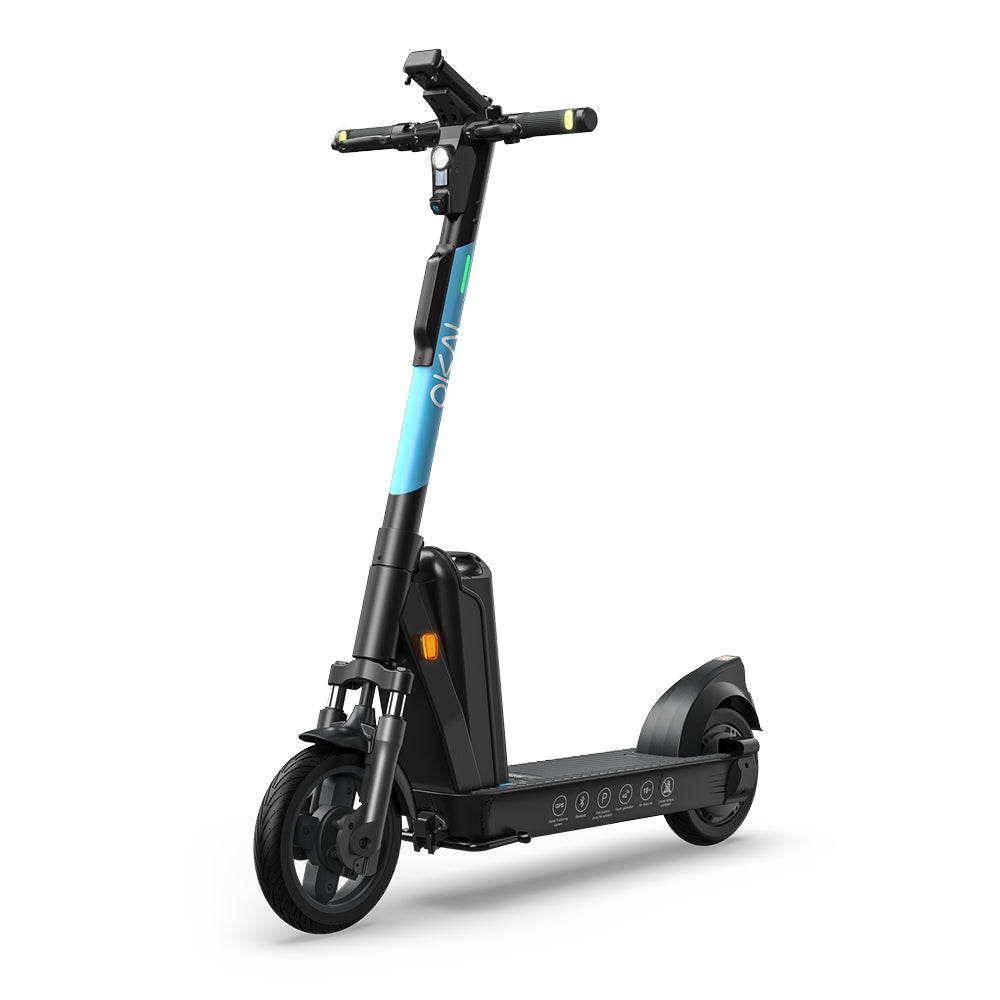 Technical Specifications
OKAI ES400B is a new generation urban electric vehicle for the scooter sharing business, which has a reliable design and modern features:
| | |
| --- | --- |
| Specifications | Indicator |
| Power reserve | 55 km |
| Replaceable battery | Yes |
| Battery cell manufacturer | Samsung or LG |
| Charge time | 6 hours |
| Maximum speed | 30 km/h |
| Branding capability | free for orders of 300 units or more |
| Maximum load | 100 kg |
| Suspension | Shock absorber |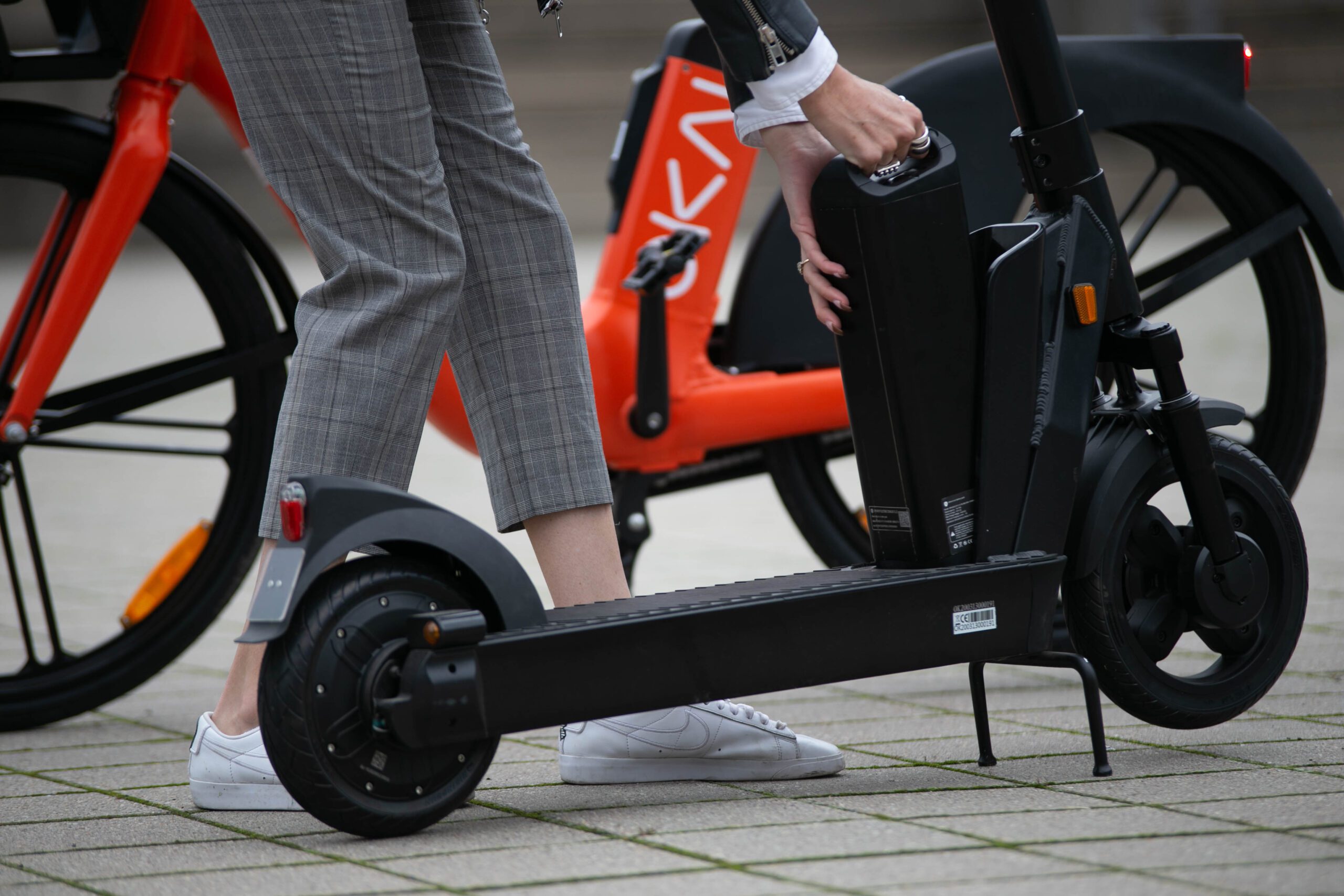 Scooter frame
The OKAI ES400B is made of aluminum alloy, which is used in aircraft production. Cables are securely hidden inside the frame to protect them from the weather and mechanical damage. The structure rests on a double footrest. On the inside of the steering column is a convenient, secure smartphone holder with wireless charging. The steering wheel is equipped with an LED display, which displays the speed and battery charge. There is also a call lever.
The handlebars have 180° swivel lights for pedestrian and rider safety. Front and rear lights are equipped with LED lights without reflectors.
Maximum payload – 100 kg. Dimensions – 123x 52×124 cm. Weight: 34 kg.
Moving part
The scooter is equipped with two wheels of different diameters. The front wheel is 12 inches, the rear motor wheel is 10 inches. The wheels are " shoes" in rubber tires with polyurethane filling. The well-thought-out size and material of the wheels increases the scooter's passability over irregularities in the form of a gravel surface and small pits. Such tires are not prone to punctures.
The high passability is ensured by the shock absorption system, which is represented by the front fork with a double shock absorber.
Battery
36V 12.8A*h removable lithium battery, designed for a range of up to 55 km without recharging. Charging is carried out with voltages in the range of 100-240 V for 6 hours from OKAI branded charging station 2.0 and OKAI 3.0, as well as charger 3A or 4A. It is recommended to use the battery at temperatures between +10°C and +35°C.
Special vertical installation of the battery is protected by an electronic lock. The battery has a high degree of dust and moisture protection – IP67.
Speed
The rear-wheel-drive OKAI ES400B is capable of accelerating up to 30 km/h. It is assisted by an electric motor with a capacity of 350 W.
Safety is the responsibility of the drum brake on the front wheel and the electronic brake on the back. The braking system ensures smooth and reliable braking.
Software
IoT module supports 2G, 3G, 4G modes, updated over the network. There is protection against reinstallation and theft. Communication with the operator is carried out via mobile network or Bluetooth.
With the software it is possible to:
track scooter movements;
determine the exact location of the unit;
monitor scooter condition;
remotely control functions of the scooter;
see information about collisions.
And also keep in memory the routes and all events along the route.
Scooter customization option
The model comes in black, but if you order more than 300 units at once, there is free customization in the colors of the sharing operator brand.
About the Brand
Chinese company Zhejiang Okai Vehicles Co., Ltd, which owns OKAI brand, was founded in 2006 to create a new generation of electric vehicles.
In 16 years, the company has become a leader in the production of electric vehicles for urban conditions. All scientific developments are carried out in China and managed through the headquarters in Berlin (Germany).
The products of Zhejiang Okai Vehicles Co., Ltd. are used on all continents.
ScootAPI supplies electric sharing vehicles installs sharing business management software and provide maintenance. If you have any questions, please contact our managers.
Let's bring your idea to life!
Get free start advice, leave data on the number of scooters and region