Okai ES 200D
Efficient, safe, and reliable electric scooter OKAI ES200D is designed specifically for sharing. The most affordable scooter in the OKAI range.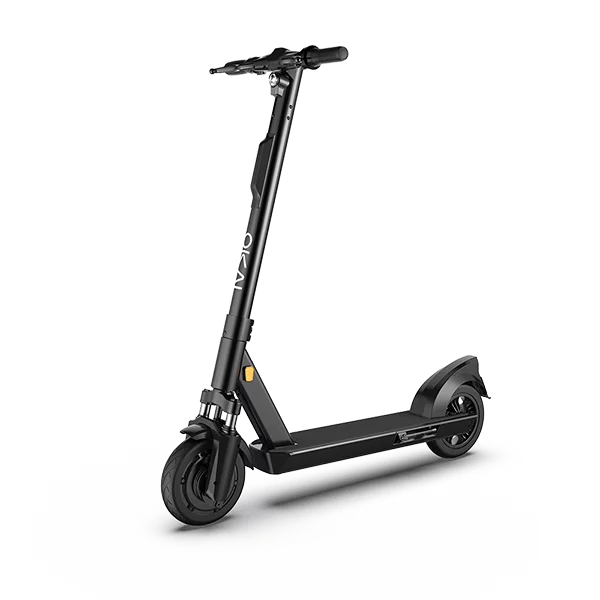 Technical Specifications
OKAI ES200D has all the advantages that are necessary to share vehicles: reliable construction, vandalism protection, attractive design, etc.
| | |
| --- | --- |
| Specifications | Indicator |
| Power reserve | 35 km |
| Replaceable battery | Yes |
| Battery cell manufacturer | Unknown |
| Charge time | 6 hours |
| Maximum speed | 20 km/h |
| Branding capability | free for orders of 300 items or more |
| Maximum load | 100 kg |
| Suspension | front spring fork |
Scooter frame
The robust construction is made of aeronautical aluminum, so it is designed for continuous operation. The electric scooter is supported by a double parking rack during parking time. A control module is integrated into the steering rack.
Maximum load – 100 kg. Dimensions – 117x50x121 cm. Weight – 23 kg.
Moving part
Two 10-inch «shoes» wheels in cellular tires that guarantee long-term use in all conditions. The wheels are reliably protected by spray guards, which guarantees the cleanliness of the rider's clothes. The rear wing has a reinforced design, which increases the reliability of the scooter and increases its service life.
The smooth movement even on the gravel road is provided by a spring front shock-absorbing fork.
Battery
The built-in 10S4P 36 V 12.8 A*h lithium battery is designed for 35 km. The battery has 20 days of backup power to keep you connected even when the main battery is completely discharged.
The protection level of the IP67 indicates that the battery is well protected from water and dust.
Speed
An electric motor with a front-drive power of 350 W and a large torque of 22 NM. allows you to accelerate up to 20 km/h and enter the mountain with a slope of up to 15°.
In OKAI scooters there are 3 driving modes that guarantee safety and ease of control. The safety system consists of a front recuperative brake and a rear/front drum brake.
Software
OKAI electric scooters are equipped with a full range of functions for remote control and transport monitoring, among them:
lock and unlock via GSM and BLE 4.1;
multi-mode geolocation via GPS, GLONASS and BDS;
voice prompts and sound signals via a built-in speaker to help keep your eyesight on the road;
notification of unauthorized movement of the scooter or rollover.
The above features make the use of the OKAI ES200D scooter an indispensable option for companies providing scooter sharing services.
About the Brand
OKAI is a globally recognized brand owned by Zhejiang OKAI Vehicle Co, Ltd. The company aims to change urban electric mobility according to the demands of new times.
OKAI has more than 100 patents in the field of micro-mobility. Its subsidiaries are located around the world with headquarters in Berlin (Germany) and a laboratory in China.
Contact ScootAPI managers for getting detailed advice on scooters or to learn more about software for sharing. We supply electric scooters for sharing business and provide their connection to our platform.
Let's bring your idea to life!
Get free start advice, leave data on the number of scooters and region