Freego V4.6 
Freego 4.6 is the most budget-friendly option for sharing scooters. More than 600 of these models are already connected to our ScootAPI platform. Both business owners and customers are happy with them! Because Freego 4.6 is a durable and stylish city scooter with a removable battery in a classic black color. The model has support for OEM GPS APP 2G, 3G, 4G, and advanced sharing software.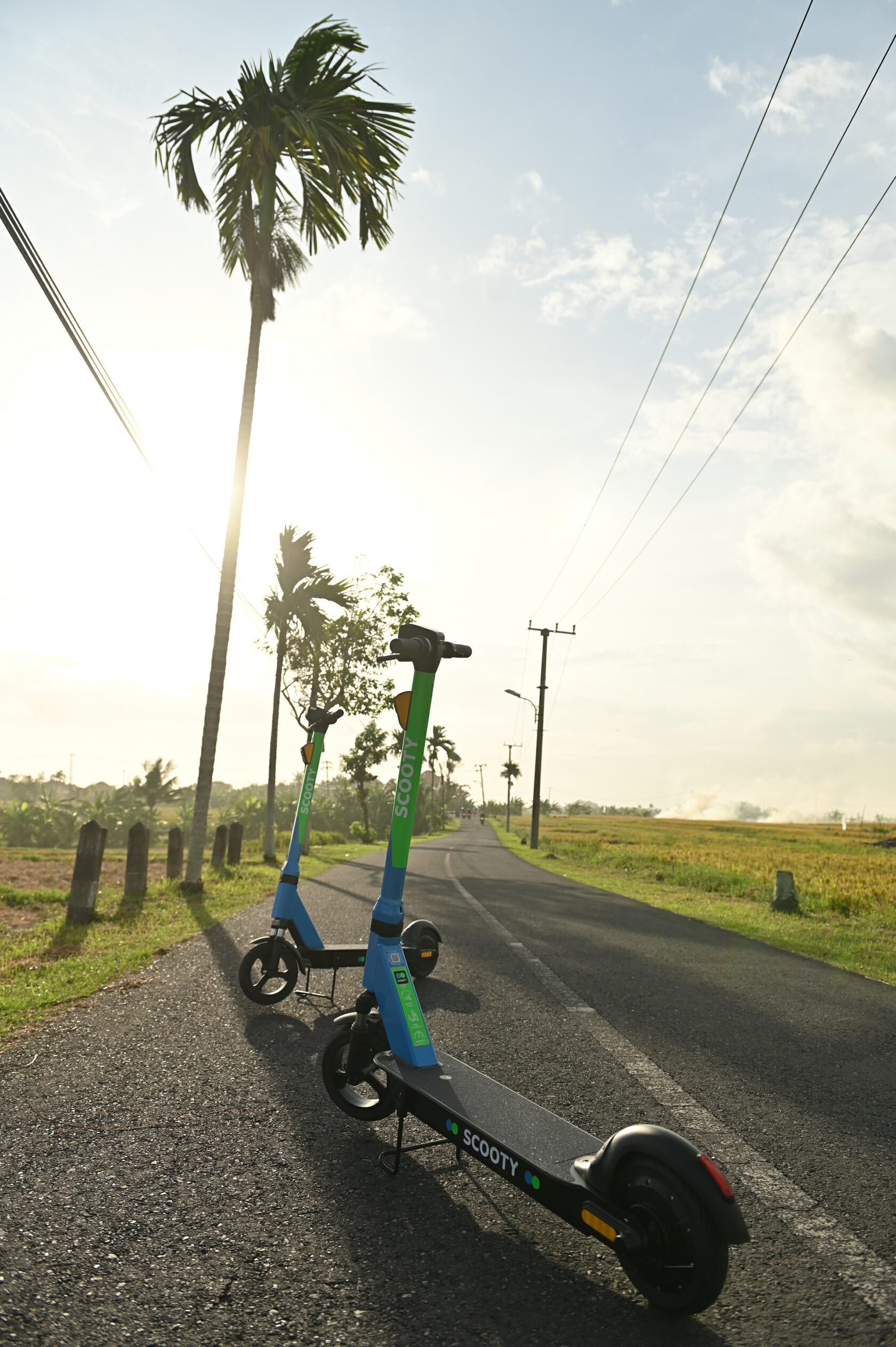 Technical Specifications
We underline that the model is specially designed for the kicksharing business, and has a strong frame and «good stuffing»:
| | |
| --- | --- |
| Specifications | Indicator |
| Power reserve | 40-60 km |
| Replaceable battery | Yes |
| Battery cell manufacturer | Unknown/Panasonic |
| Charge time | 6-8 hours |
| Maximum speed | 25 km/h |
| Branding capability | free for orders of 300 or more |
| Maximum load | 200 kg |
| Suspension | Shock absorber |
Scooter frame
The aluminum frame with IP56 protection is made in black. Lightweight but sturdy construction withstands a maximum load of 200 kg. Operating temperature from -10 to +40°C. Can be stored at -20…+50°C. At the front is a white LED headlamp that is switched by a button on the dashboard. There is a red headlamp on the back that blinks when you stop. The handlebar has rubberized grips with soft bubbles.
During parking, the scooter rests on a reliable parking post made of a solid metal bar with a bend. Such a stand holds the scooter better than conventional footrests, even on an uneven surface. Also, such support has less chance to bend or break. The model dimensions (LxWxH) are 120x43x120 cm. Weight – 19 kg.
Moving part
The Freego 4.6 moves on two 10-inch tubeless wheels. Wheels of this diameter have better flotation than standard 8-inch wheels. They do not require maintenance, do not afraid of punctures and accelerate well.
Splash and dirt protection on the wheels is wide and half covers the rear wheel. This makes sure that no weather conditions will ruin the scooter's appearance.
The Freego 4.6 is equipped with a front suspension with shock absorption. The wheel can be swiveled 60° to the left and right.
Battery
You can drive between 40 and 60 km on a fully charged battery. The distance depends on the speed: the lower the speed, the longer the mileage. Charging time is 6-8 hours.
The Freego 4.6 comes with two types of batteries:
1. ZN 36 V – 15 A*h with a power reserve of 40-45 hours. This battery comes in a basic configuration;
2. Panasonic 36 V – 19,2 A*h (replaceable battery during operation) with a power reserve of about 50 hours. This is an optional option at an additional charge.
The battery charge is indicated by 5 divisions on the steering unit. The battery itself is protected from overheating, short circuits, and overload in the network.
Speed
You can accelerate the Freego 4.6 up to 25 km/h on a flat surface. The brushless electric motor of 500 W 36 V is responsible for the speed. The rear wheel is equipped with a drum brake and E-ABS wheel lock protection. The brake is located on the left handle.
The engine is switched on at a speed of 3 km/h. The model maintains speed on a flat surface and inclined plane up to 15°.
Scooter customization option
If you order more than 300 units at once, we will give you the coloring of the scooters in the colors of the brand of the sharing company.
About the Brand
Freego is owned by Shenzhen UVI Hi-tech Corporation Limited. It includes 3 factories, which produce security systems for home, cars and automobile products.
The factories employ more than 1,000 workers, 20 engineers and qualified quality control specialists. 95% of the products are sold in European and American markets. The rest are sold in Asia, Africa and Oceania.
Company advantages:
modern modem equipment;
experienced engineers and skilled workers;
professional and efficient team;
fast delivery;
Various payment options including L/C, T/T, WU, PayPal.
The ScootAPI team will help prepare for the start of the electric scooter sharing business. You can write, call or leave a request on the site for consultations.
Let's bring your idea to life!
Get free start advice, leave data on the number of scooters and region