E-bike OKAI EB200
The EB200 is a breakthrough in sharing. There have never been such fast, powerful and beautiful bikes on the market. Moreover, this model retains increased reliability and safety of transport. It is difficult to damage or steal because it has a strong frame and «smart brains»!
Technical Specifications
The EB200 is designed to get from one point to another as quickly as possible. It is also the most powerful electric bike in kicksharing.
| | |
| --- | --- |
| Characterization | Indicator |
| Range | 40 km |
| Replacement battery | Yes |
| Battery Cell Manufacturer | Unknown |
| Charging time | 6 ч |
| Max speed | 35 km/h |
| Branding options | Free, for orders of 300 pieces or more |
| Maximum load | 200 kg |
| Suspension | Yes, a double |
Frame
The frame is made of heavy-duty aluminum alloy, so it can be used in high-load conditions. In addition, each electric bike is equipped with a special module for tracking location and operating parameters. In case of unauthorized movement, the system will give an alarm. The combination of these chips reduces the theft of such a bike to zero!
Maximum load up to 200 kg. The degree of protection of iron is IP55, and electronics is IP67.
Moving part
It has durable alloy drum brakes front and rear for reliable operation. The wheel diameter is 20 inches. Unlike the previous hundredth model, the suspension is made of two forks A shock-absorbing fork in front and an auxiliary fork in the rear. For this reason, the EB200 provides increased ride comfort.
Battery
OKAI replacement batteries are highly reliable and stable in operation. They meet the highest quality standards and are manufactured in-house. Thanks to the special battery management system (BMS) and reliable design, operating costs are reduced when sharing bicycles.
The 15Ah Li-ion battery provides a power reserve of up to 40 km. And it takes 6 hours to fully recharge. The safe operating temperature of the battery ranges from -15°C to +60°C.
Speed
With the help of an electric motor with a maximum power of 1200 W, rated 750 W and 80 Nm of torque, the bike reaches a speed of up to 35 km/h. With these indicators, the model is perfect for private and business bike rentals.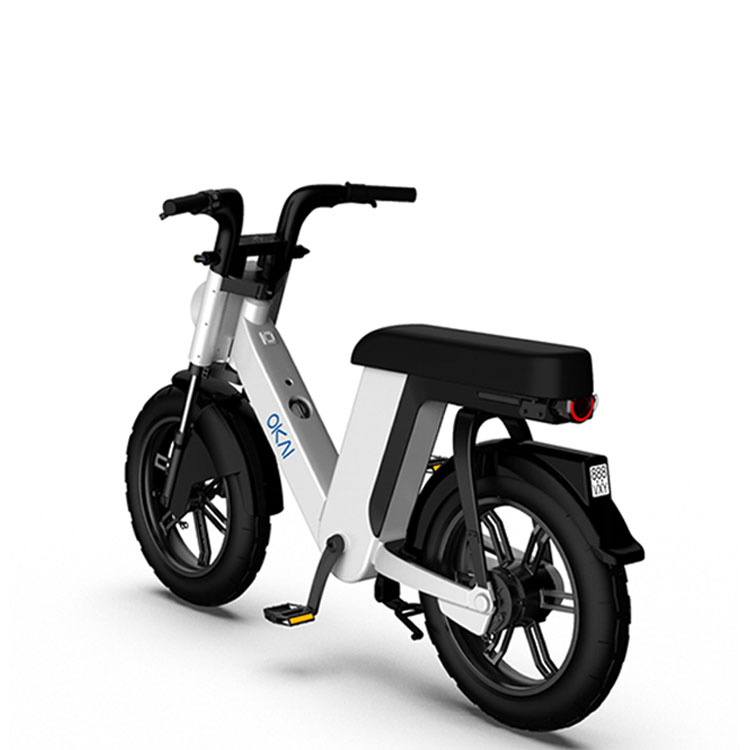 Spare parts
When buying a bike, also purchase a spare parts kit: battery and battery lock, battery charger and cables, brushless controller, front and rear wheels, brake/gas handle, IoT module, handlebar grips, front/rear brake, bearings, brake cables, headlights, saddle and basket. Request a more detailed list from ScootAPI managers.
Customization options
For single order of more than 300 pcs. EB200 we do free customization of bicycles under the corporate style of the company: painting in the desired colors, drawing the logo, etc.
Video
Watch this short video to see the aesthetics and technical power of the EB200
About the brand
OKAI is a brand from the «Heavenly» that has been providing the American and European rental market with the highest quality vehicles since 2006. During its operation, the company has received more than 100 patents in the field of micro-mobility.
The founder of the company, Jiantao Lu, believes that brand leadership in the world market is possible only with the presence of innovation and quality industrial design. It is based on this idea and formulates the main goal of OKAI is to provide each citizen with the most comfortable transport for movement.
Our company ScootAPI is preparing to launch a «turnkey» electric bike rental business. If you want to learn more about bikes, sharing software, or get advice, please, contact us in any convenient way.
Let's bring your idea to life!
Get free start advice, leave data on the number of scooters and region