E-bike — OKAI EB100b
OKAI is one of the most popular brands for sharing bikes. The EB100b model is for food delivery companies. Especially for them was a designed thermal bag, which maintains the temperature for half an hour. Also, EB100b will appreciate the fans of urban cycling for its cool design, ease of control, and speed of up to 25 km/h.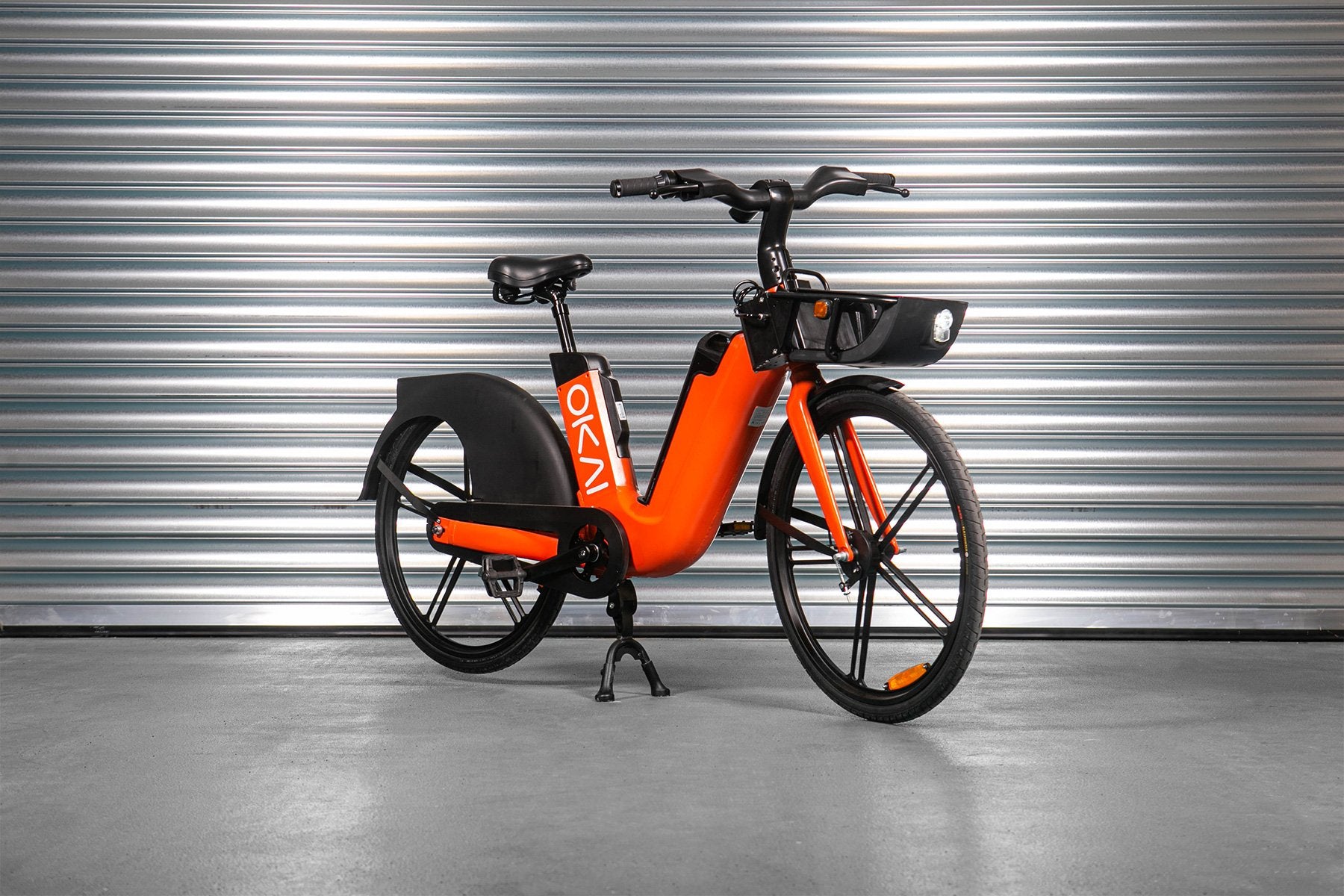 Technical Specifications
OKAI EB100b is one of the most advanced bikes in the sharing market, made of reliable materials of aviation quality. It uses a brushless and gearless motor that requires no maintenance for maximum performance.
| | |
| --- | --- |
| Characterization | Indicator |
| Range | 90 km |
| Replacement battery | Yes |
| Battery Cell Manufacturer | Samsung/ Unknown |
| Charging time | 4 hour |
| Max speed | 25 km/h |
| Branding options | Free, for orders of 300 pieces or more |
| Maximum load | 120 kg |
| Suspension | Yes, the shock-absorbing fork |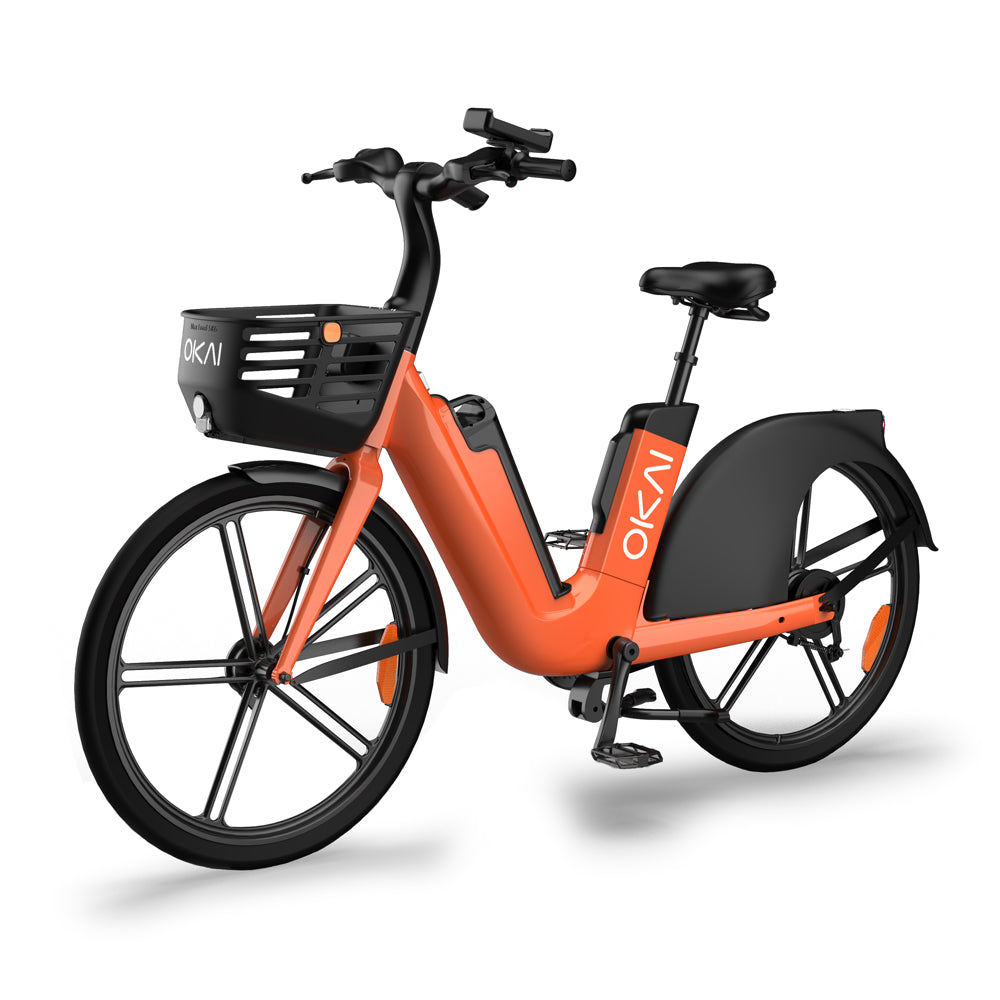 Frame
The IoT module of 4 generations is integrated into the frame. It allows controlling the location and operating parameters of the bike. The frame is made of reliable and light aluminum alloy, so it can be operated continuously. Also, this design is not afraid of acts of vandalism, so it is "ideal" for private or business bike rentals. The protection class IP67 provides reliable «brains» and prevents the appearance of corrosion on the frame. The maximum load capacity is 120 kg.
Moving part
It has large 26-inch Honeycomb wheels and drum brakes at the front and back, as well as good cushioning. This makes for a comfortable and ergonomic ride.
Battery
The model uses replaceable batteries of type Li-ion and a capacity of 15Ah. The company manufactures them independently. It takes 4 hours for a maximum charge, and with a full battery, you can ride up to 90 km. The operating temperature ranges from -15 to +60°C.
Speed
The electric motor has a maximum power of 500 W and a nominal power of 250 W. EB100b can accelerate up to 25 km/h with this motor
Spare parts
When buying a bike, it is worth buying a set of spare parts: battery and battery lock, chargers and cables, brushless controller, front and rear wheels, brake and throttle handles, IoT module, grips (rubber handlebar pads), front / rear brake, bearings, brake cables, lights, saddle and basket.
Customization options
It is possible to customize the electric bike to the style of your company: change the color, put the logo, etc. With an order of over 300 units, we paint bikes for free.
Video
You can see the possibilities of the electric bike EB100b in the video clip.
About the brand
OKAI is a Chinese brand that has been working in the micro-mobility industry for 17 years. During this time, more than 100 developments have been patented, and the products themselves are in demand from European and American electric transport rental companies. Since its foundation, the focus has been on innovation and industrial design, so the OKAI range is equipped with all relevant chips and has a design gloss. The company's mission is to become a leader in micro-mobility. To do this, it seeks to develop transport that is in line with the trend of urbanization in technical and aesthetic terms. Our company ScootAPI is engaged in the preparation for the start of the business of electric bike rental «turnkey». To learn more about bikes, sharing software, or get advice – contact us in any convenient way.
Let's bring your idea to life!
Get free start advice, leave data on the number of scooters and region